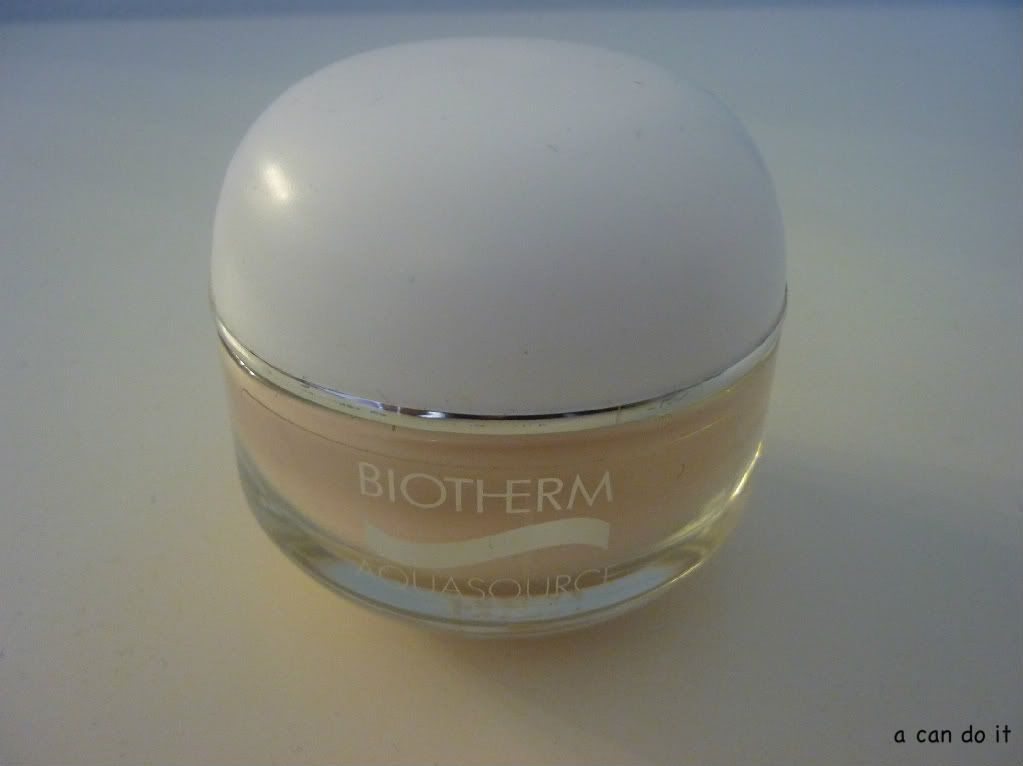 In july I got a package in the post with several cosmetic products from Biotherm - I won a 3 pieces aquasource/biosource set for dry and sensitive skin (pink/rose edition). After about two months of testing I can give you a review on the products.
About my skin:
The skin in my face is dry and quite sensitive. It shows irritations by redness and tension on the cheeks.
What Biotherm says:
"NEW AQUASOURCE WITH THERMAL PLANKTON CELLULAR WATER. Our latest breakthrough, Biotherm's next generation Aquasource formulation, delivers intense and long-lasting hydration. For plump and radiant looking skin ."
How I used the products:
In the morning I started with the Biosource Hydra Mineral Cleanser Softening Mousse (under the shower), then I toned with a splash of the Softening Lotion. After the cleansing I used the Crème Riche (around the eyese I used my favorite eye cream). In the evenings I usually only used the Softening Lotion and Crème Riche afterwards, as I do not use a lot of foundation or stuff in summer, so I did not have the need for another deep cleanse.
About the Crème Riche:
The cream is sold in a light glass pot of 50ml (I prefer tubes or pumps, but I think you can get it in a tube as well as a special size). It looks light rose/pink and like a jelly - not like a rich, deep caring cream. Another thing I noticed was the smell - a smell I can't describe but it's neither fresh or flowery more "medicinal", I think this is because of the plankton used. I do not like it! But I also have to admit, that I do not mind it that much after weeks of use. Because of my dry skin and the jelly-like consistence I was quite sceptical when I applied the cream for the first time. It applies easy but it left some (not oily but other) residues on the skin that need about 10 minutes to go away. This could be a problem if I wanted to use foundation. Nevertheless my skin liked the cream it did not show redness of other signs of discomfort and I did not have to moisturize again during the day. Further effects are not visible to me.
Overall rating:
I like how the cream moisturized my dry and sensitive skin very well and did not irritate it. The prize is okay but not cheap (50ml ~ 40€), a little goes a long way (I think a pot will last about3-4 months). But I don't think I'll buy it again because of the following reasons: The smell and the residues left on skin. Plus it does not contain any UV-protection/sunscreen.
Information:
I won these products in a giveaway and I am not affiliated with Biotherm in any way. I tested the products closely and this review is my personal statement.
In the next few days I post a review on the two Biosource cleansing products. And among these there is a new fave!
Im Juli erreichte mich unerwarteterweise in Päckchen von Biotherm, drin waren drei Aquasource/Biosource-Produkte. Des Rätsels Lösung: Ich hatte einige Zeit zuvor bei einem Biotherm-Gewinnspiel mitgemacht und gewonnen. Da ich sowieso auf der Suche nach der idealen Gesichtspflege und -reinigung bin, habe ich gleich getestet. Nach inzwischen knapp 2 Monaten kann ich mir nun auch ein gutes Bild davon machen.
Über meine Haut:
Meine Gesichtshaut ist trocken und empfindlich, wenn sie gereizt ist bekomme ich Rötungen und habe oft ein Spannungsgefühl auf den Wangen.
Was der Hersteller verspricht:
"DIE NEUE AQUASOURCE MIT THERMALPLANKTON ANGEREICHERTEM ZELLWASSER – OHNE PARABENE. Mit der Lancierung der neuen Generation von Aquasource beginnt für Biotherm eine neue Ära der Feuchtigkeitspflege. Diese Pflege füllt die Feuchtigkeitsspeicher der Haut vollständig und dauerhaft auf. Von nun an geht Feuchtigkeit in die Tiefe, und zwar bis zu 5 Hautschichten. Die Haut ist strahlend und prall, nie zuvor sah sie so vital aus."
Wie ich die Produkte angewendet habe:
Morgens unter der Dusche startete ich mit der Biosource Hydra Mineral Cleanser Softening Mousse, anschließend klärte ich mit der Softening Lotion. Nach der Reinigung habe ich die Crème Riche aufgetragen (um die Augen nutzte ich weiterhin meine favorisierte Augencreme). Abends habe ich meist die Softening Mousse ausgelassen und nur die Softening Lotion und anschließend die Crème Riche benutzt, da ich im Smmer selten Foundation o.ä. nutze und so meine Haut nicht noch einmal eine Tiefenreinigung benötigt hätte.
Über die Crème Riche:
Die Crème ist in in einem hellen Glastiegel à 50ml verpackt (ich bevorzuge Tuben oder Pumpspender - ich glaube, dass man gerade auch ein Set mit kleinen Größen erhält, wo die Creme in einer Tube verkauft wird). Sie sieht hell roséfarben aus und eher wie ein Gel als eine (reichhaltige) Creme. Für beachtenswert halte ich auch den Duft - weder wirklich frisch noch blumig, ich würde ihn eher "medizinisch" beschreiben, ich vermute das liegt an dem verwendeten Thermalplankton. Und ich muss sagen, dasss ich den Duft gar nicht mag, zum Glück verfliegt er schnell und ist jetzt nach ein paar Wochen Anwendung kaum noch wahrnehmbar. Da meine Haut wirklich trocken ist, war ich zunächst skeptisch bzgl. der Pflegewirkung bei dieser gelartigen Konsistenz. Sie lässt sich gut auftragen, aber slebst bei meiner sehr trockenen Haut bleibt ein Film (nicht ölig!) zurück,d er ca. 10 Minuten braucht um einzuziehen. Wer morgen noch eine Foundation benutzt, den wird diese Zeit nerven! Allerdings - ich habe die Creme super vertragen. Keine Untelagerungen, Rötungen oder ähnliches, auch nachcremen musste ich zwischenzeitlich nicht. Wirkungen, über die Hydratisierung hinaus habe ich keine feststellen können.
Gesamteindruck:
Ich fand die Feuchtigkeitswirkung gut, auch dass meine Haut nicht gereizt wurde. Der Preis ist mit rund 40€ für 50ml (die lange reichen, ich schätze 3-4 Monate) okay, aber nicht günstig. Selbst kaufen werde ich mir das Produkt aber nicht: wegen des (unangenehmen) Geruchs und der Rückstände, die so langsam einzogen. Auch stört mich der fehlende UV-Schutz.
Hinweis:
Ich habe diese Produkte gewonnen und wurde in keiner Weise vom Hersteller o.ä. beeinflusst. Ich habe sie gründlich getestet und dieses Review spiegelt meine persönliche Meinung wider.
Es folgen Reviews der beiden Biosource-Reinigungsprodukte und sowiel sei schon verraten - eines ist ein definitives Kauf-Produkt für mich!