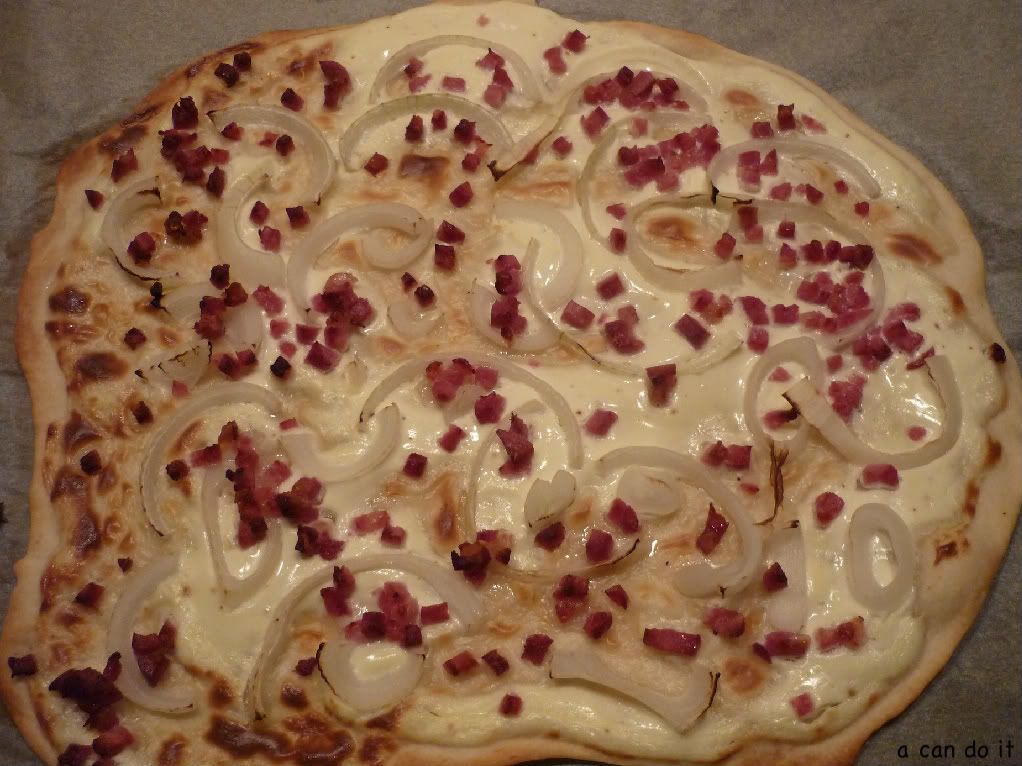 This "french pizza" is the perfect treat on a rainy (or even snowy) evening. Soul food at its best! It's easy to prepare and the varieties are endless. Here's my recipe.
Flammkuchen ist eine tolle Sache - da wird einem ganz warm ums Herz (und im Magen), genau das richtige Soulfood für die kommenden trüben Tage also. Er ist auch nicht kompliziert herzustellen und man kann ihn toll abwandeln. Allerdings ist er so schnell weg, dass es mir nicht gelungen ist ein vernüftiges Foto meines fertigen "Werkes" zu bekommen :)
2 servings | Für 2 Portionen
250-300 grams wheat flour |
250-300g Weizenmehl
125 milliliters water |
125ml Wasser
3 TBS oil (canola) |
3EL Öl
1/2 TS salt |
1/2 TL Salz
250 grams crème fraîche |
250g Crème Fraîche
1 medium onion, cut in rings |
1 mittelgroße Zwiebel in Ringen
125g smoked speck, diced |
125g Räucherspeck in Würfeln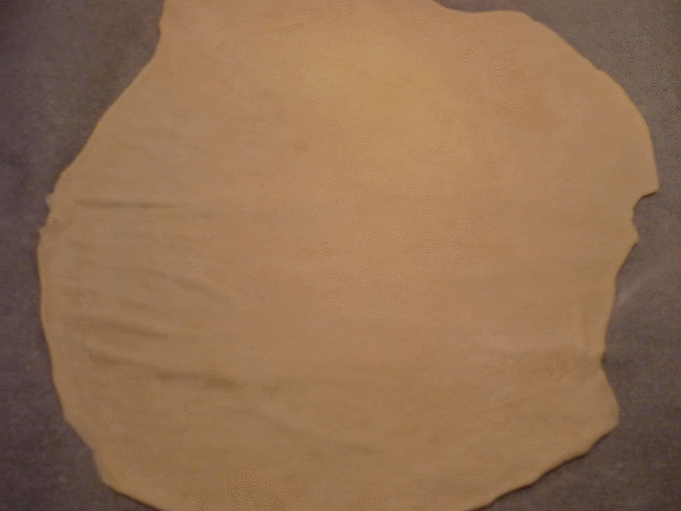 Preheat the oven to at least 200°C (the hotter, the better). Prepere the dough from wheat (starting with 250g and add as long as it is to sticky), salt, water and oil. Roll it to a very thin slice, you should get 2 of the size of a dining plate. If I had a pasta machine that would be my weapon of choice :)
Put the dough on a paper lined baking tray and add cream and topp with onions and speck. Bake for about 5-10 minutes until crunchy and golden on the edges. Serve hot!
You can also change the topping as you like - I prefer the classic version, as well as a mediterranean/vegetable version with zucchini, thyme and greek cheese, or sweet with apple slices and cinnamon. Yum!
Den Ofen vorheizen, mindestens 200°C, je heißer desto besser. Dann den Teig aus Mehl, Salz, Wasser und Öl bereiten und so dünn wie möglich ausrollen, wenn ich eine hätte würde ich das wohl mal mit eienr Pasta-Maschine versuchen. Die Menge sollte für zwei Flammkuchen ausreichen.
Die Teigfladen auf ein mit BAckpapier ausgelegtes Blech legen und mit Crème Fraîche, Zwiebeln und Speck belegen. Etwa 5-10 Minuten backen, bis die Ränder goldbraun werde. Sofort servieren!
Außer der klassichen Version mag ich auch gerne eine mediterrane mit Zucchini, Thymian und Ziegen- oder Schafskäse sowie süß mit Apfelspalten und Zimt-Zucker. Lecker!